You can never go wrong with this tried-and-tested colour combo for your bathroom.   Black and white are timeless options. These two colours never fail to uplift the aesthetics of a place. You can really never go wrong with black and white. A black and white palette has a special and enduring glamour that dresses up any bathroom. It's versatile. Over the years, you can add new elements to a black and white base—one new plant, painting, or sculpture can refresh the entire look. Here we would like to share with you one of our recent completed cool monochromatic bathroom for your design...
---
The bathroom is an essential part of any building. Nowadays bathrooms are often given the highest priority in a home, along with the kitchen, and its design needs to be done carefully.  Bathroom accessories are often overlooked in the initial stages of planning and design. However, they play an important role in any bathroom space – both in how they make the space more usable, as well as how they add to the overall comfort of the user.  Consequently, these accessories are everyday objects that must be practical, functional, easy-to-use, yet sturdy at the same time; not forgetting aesthetically attractive...
---
How Many Types of Toilet / Water-Closet ? Learn about it here...
---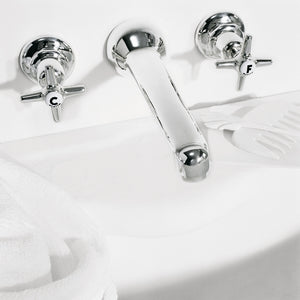 Choosing a new basin tap for your bathroom sounds simple enough, doesn't it? But unless you know exactly what you're looking for, it can be anything but. There are a multitude of things that you need to take into consideration, including: the water pressure you have; what style of tap you want; what finish you want; whereabouts on or around your basin you're planning on mounting your tap. In this extensive guide, we'll talk through the different types of basin taps that are available, specifically, in Singapore and the region.   1. Pillar Taps    Everyone's familiar with basin pillar taps,...
---
Bathtubs for Master Bathrooms, A high-quality bathtub that meets your individual needs, space requirements and design preferences is an integral part. While most people take shower more often than a luxurious bath, it's still really nice to have at least one bathroom with a bathtub.  This is especially the case if you have kids.  It is not easy bathing very young kids. Also, being able to take a hot bath after a long day in the office can be relaxing.  Bathtubs are now available in a large variety making it possible for every household to enjoy the fun and excitement. Do you have limited...